Blog Importer in Beta
Problem
One of my Product Mangers was having some trouble documenting a new blog importer experience. Until recently, only certain types of blogs were compatible with HubSpot's blog import tool. The new beta import tool can scan a live blog URL and automatically import it into a new HubSpot blog.
More than half the time, the experience works just like magic. But if the import tool can't read any part of the blog's template, it requires some basic HTML and CSS knowledge to troubleshoot the problem. And since every blog template is different, there isn't one perfect solution to document on the Knowledge Base.
Solution
Instead of providing one definitive solution for troubleshooting on the Knowledge Base, I collaborated with the team to write a companion post on HubSpot's Community. By linking readers to a help forum, customers can give feedback and get help at scale.
After giving a brief overview on how to troubleshoot the feature, the Knowledge Base article links to a Community post with more detailed examples and external resources.
By moving customers to the Community for this troubleshoot step, we invite them to collaborate with the Product team who's working on the feature. Beta participants are encouraged to leave comments if they need additional help.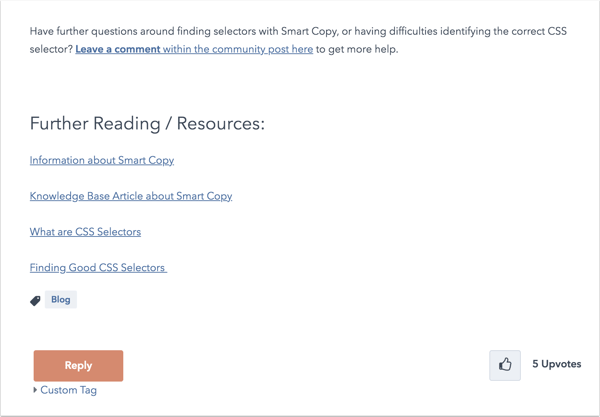 We are also driving traffic to a Community post on another live Knowledge Base article about the existing blog import functionality. This way, anyone who finds this article but doesn't use WordPress or SquareSpace can now:
connect with the Product team on the Community,
opt their HubSpot account into the beta, and
accomplish their goal of importing their blog into HubSpot.