Design manager documentation audit
In 2018, HubSpot's design manager tool was being redesigned to create a more modern and intuitive experience. This posed a unique challenge, as there were nearly 100 knowledge base articles impacted by the change.
To save our team time and improve the content experience overall, I audited our existing content on our knowledge base and developer documentation. Then I created a plan to simplify the update process and improve the content.
Collaboration
Product team: pitched the strategy to simplify existing content to the product manager and lead developer. Illustrated how content would be reorganized and actioned. Incorporated their notes and feedback into the plan.
Developer: coordinated with my team's developer to identify existing knowledge base article for the design manager category. We created a plan to track and publish changes in bulk on the day of the release based on product marketing timelines.
Technical writers: worked with my team of writers to consolidate and update articles with the new designs and concepts.
Solution
Identified duplicate or redundant content, and followed up with subject matter experts for clarification where needed.

Proposed how to consolidate documentation into canonical user guides and how-to articles.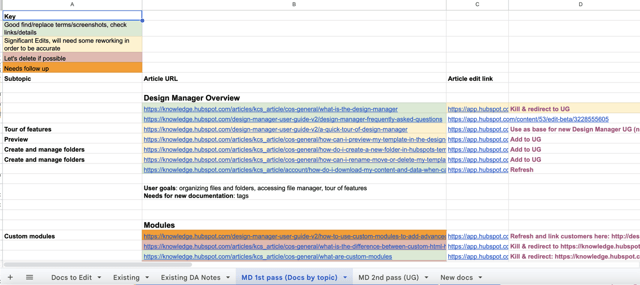 Created a workflow for my team to take action on existing content to revise, consolidate, or redirect the existing content.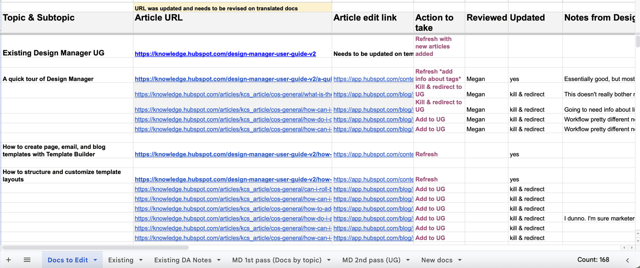 Results